July 29, 2015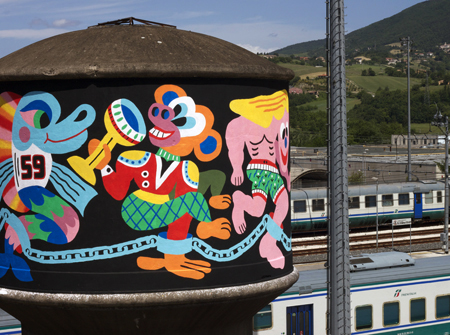 Here is the wall I made for PopUp festival. Along the railways that goes from Ancona to Roma 5 stations were intervened by different artists. Mine is in Fabriano, I painted the old water tank of the station. I named it the "Evolution chain", The rounded format invited me to tell an endless story like in a vicious circle. So I decided to make my own interpretation of Darwin's theory: at first it starts with the tree, then comes the dinosaur, the fish and… the cheeky monkey who wanted to be more than he was and drank from the chalice. That's when it all went wrong: he turned into a man! Fortunately the woman (the only one clever enough to run the other way) is trying to help with the spiritual being by her side. At the end is the owner of the chain, the man of the future who is destroying what's ahead of him.
And then it gets back to where it all started.
THE EVOLUTION CHAIN from 3ttman on Vimeo.