December 12, 2014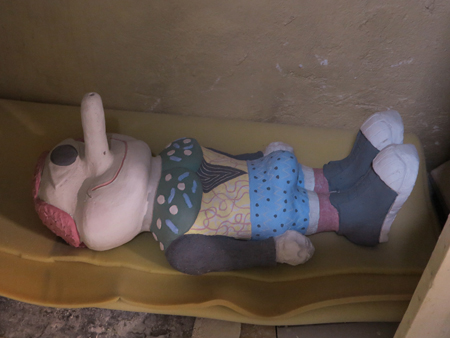 During September 2014 was celebrated one of the most important streetart event in Rusia: Artmossphere (Moscow Biennale of Street Art), for which more than 60 artists around the world have been invited.
My good friend Sixe Paredes and I decided to take advantage of Rusian knowledge in ceramic and adapt our style to a new "savoir faire". Sixe is familiar to peruvian's ancient tecnics and I have been in contact with Vietnamese's terracota and mosaic.We were both thrilled to confront our style and knowledge with a new vision of working the ceramic.
We couldn't have landed in a better place than "Studio Porcelain Lyudmila Kaminskoy" for that mission. The masters were incredibly talented and the vibe inside the studio was positive and warm… It was actually titerally boiling in there as -sovietic style rules- we were in the basement right next to the heating of the entire building going non-stop all day long.
Thnak you so much to masters Dmitry Puchkov y Lyudmila Kaminskaya for their help and kindness.